Hello helloo! Hope everyone's having a wonderful week so far! Mine's been pretty uneventful aside from the fact that a few friends and I went to go see the Hunger Games (round 2) tonight! Yes, it was just as good the second time!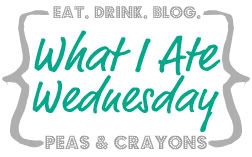 Hugs to Jenn for hosting! Xox
Anywho, on to my FAVORITE day of the week! WIAW! And I love it even more this week because I actually remembered to take pictures…woooo! Hereeee we gooo!
White Naan Pizza with chicken, asparagus, sun dried tomatoes, and cheeses! And green beans on the side, of course. This is becoming one of my favorite means lately. It's so quick, yummy, easy!
Dessert after the naan pizza was a de-popped Yasso strawberry froyo pop.. with blueberry granola…yummm. I really like the Yasso froyo but in moderation. I feel like it's not really something you can just have all the time, I find it to be creamy tasting and really rich so I kinda have to be in the mood for it. But when I am, it's so good!
YUM. Post workout breakfast on Sunday… poached egg on toast with a little strawberry jam on the side… completely hit the spot!
The flash made this look completely unappetizing, but trust me this was good! My mom tested out a recipe for homemade parmesan chicken tenders and they turned out pretty good! My favorite part of this was for sure the roasted veggies though. We made a huge bowl of them the other night and I feel like I've been eating them non stop! I've also been weirdly craving brussel sprouts lately so these veggies hit the spot!
And of course…the peanut butter multi grain Cheerios… Thee have been haunting me all week. I bought a box Monday afternoon and it's already more than half gone… I'm addicted. They're just SO good, I can't stop eating them!
Another favorite meal of mine! Rigatoni Abruzzi… rigatoni pasta, sausage, peppers, and black olives in a almost-kinda spicy sauce. Probably not the healthiest of meals, but mannn it's good.
Random fact: whenever we have this, I eat the leftovers cold…. is that super nasty of me? I feel like it almost tastes better!
GRAPEFRUITS! up. the. ying. yang. Not only are these babies super super delicious but they're SO good for you. I've been having them for breakfast, snacks, and dessert…love them!
Chobanis fo dayzz. I cut out oatmeal this week… I know, it's partially ruining my week and I miss it so much. But my mom was starting to get concerned with how much I ate it and thought it would be best for me to take a little break… I kinda agreed with her… being completely okay and semi-excited to eat oats 3x a day is a warning sign for addiction. But hey, at least it's oatmeal and not drugs or something though, right mom? Anywho. On my little break from oats, I've swapped my usual breakfast with Chobanis and granola (aka my old "usual"). I'm actually okay with it, I love Chobanis so at least they're helping me cope with this week's lack of oats!
Anddd yet another picture that looks strange and unappetizing. This was SO good though! Pasta with pesto, chicken, and veggies! Yummm. The pasta is all natural and handmade from Whole Foods so it was super fresh.
Clearly my family loves pasta.
And last but certainly not least… CHOBANI CHAMPIONS! I mentioned these in my things I wanted to try post and am SO glad I bought them. They're. So. Freaking. Good. I got the vanilla chocolate chunk flavor and have been having it some nights this week for dessert… so so so so so so so good! And sweet enough to satisfy the sweet tooth without guilt. Loving them! Can't wait to try all the other flavors. Especially the vanilla orange..mmmmm.
How were your eats this week?
XOXO,
Caroline